How to Fix Patchy Grass: 5 Tips for Idaho Homeowners
Patchy isn't a great word.

Patchy hair? No, thanks.

A cat with patchy fur? Ick.

Even patchy fog is a pain, making you late to work so you don't have time to stop for a cappuccino and a chocolate frosted donut with sprinkles.

Patchy grass? Again, not good. It looks bad, and it's a big welcome mat for weeds, which love to fill up those areas of bare soil.

Lawn care in Idaho Falls and Boise means dealing with an occasional patchy grass problem.

We hear you. Why is my grass patchy? How do I fix patchy grass?

Let's take a look.
First, Why is My Grass Patchy?
Could be lots of reasons. Maybe you have a temporary patchy grass problem from lawn disease, spilled fertilizer, a lawn mower gas or oil spill, or dog urine spots.

Maybe it's a deeper issue like compacted soil or too much shade. If that's the case, you'll need to address the underlying cause first.

But ultimately, you'll need to tackle patchy grass repair by spreading fresh grass seed.
How to fix patchy grass? Follow these tips:
1. Patchy Grass Repair: Do You Have Enough Sun Out There?
If you've been spreading grass seed in the shade, and wondering why you still have bare spots, well, not much will happen with that patchy grass.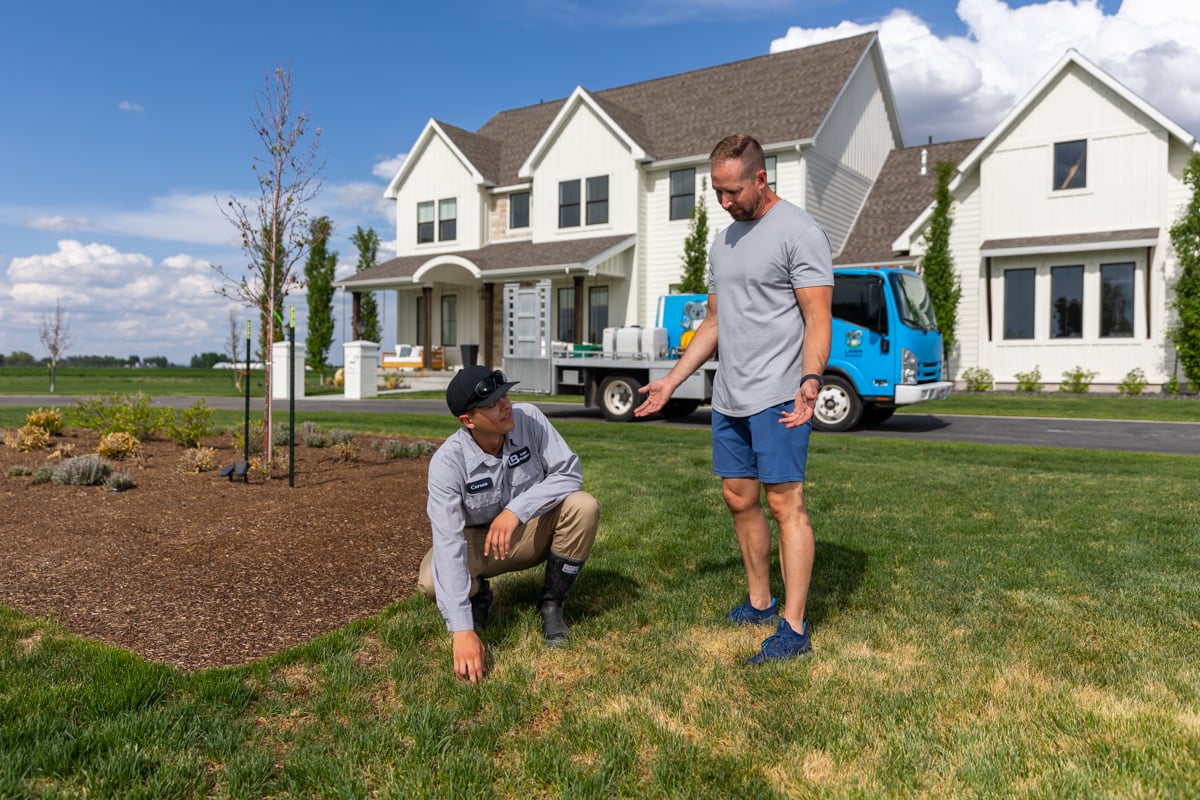 Most grass needs at least four hours of direct sun a day to survive.

Need more sun? Try thinning your trees or branches to let more sunlight through. Then try that seed again.
2. Think Fall for Patchy Grass Repair
Here in Idaho, fall is a great time to tackle seeding that patchy grass.

Everything adds up: cool air, warm soil, some nice rain, and there's time before winter roars in for those new grass roots to settle in.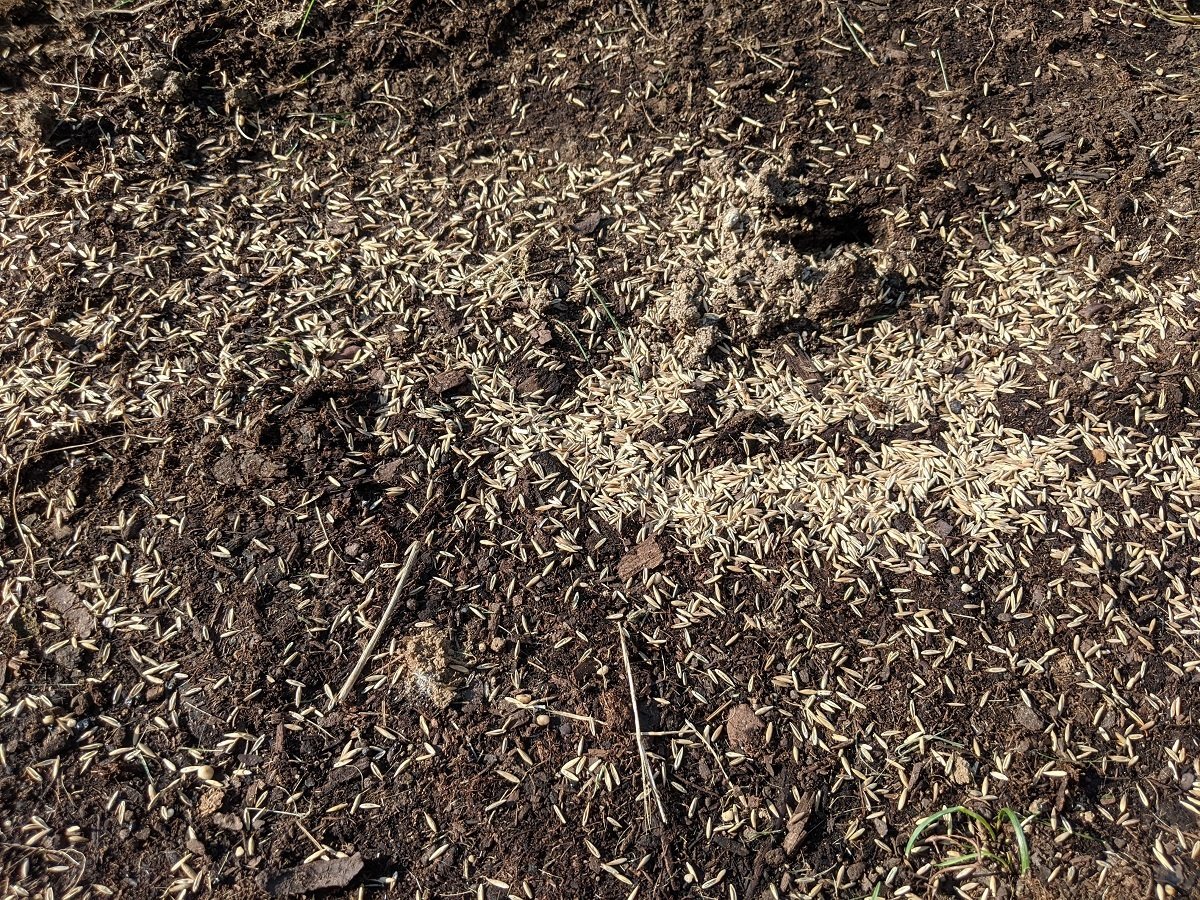 Why isn't spring better? If you're using pre-emergent crabgrass control, (and you should be!) that will prevent your grass seed from sprouting, too.
3. Patchy Grass? Aeration Can Help
If your patchy grass seems extra tough to fix, your soil might be compacted. If that's the case, you need more than grass seed.

When your soil is compacted, your lawn can't breathe. Its roots can't take in water or nutrients, which weakens your turf. Then, patchy grass — with the added fun bonus of lawn disease and weeds, too.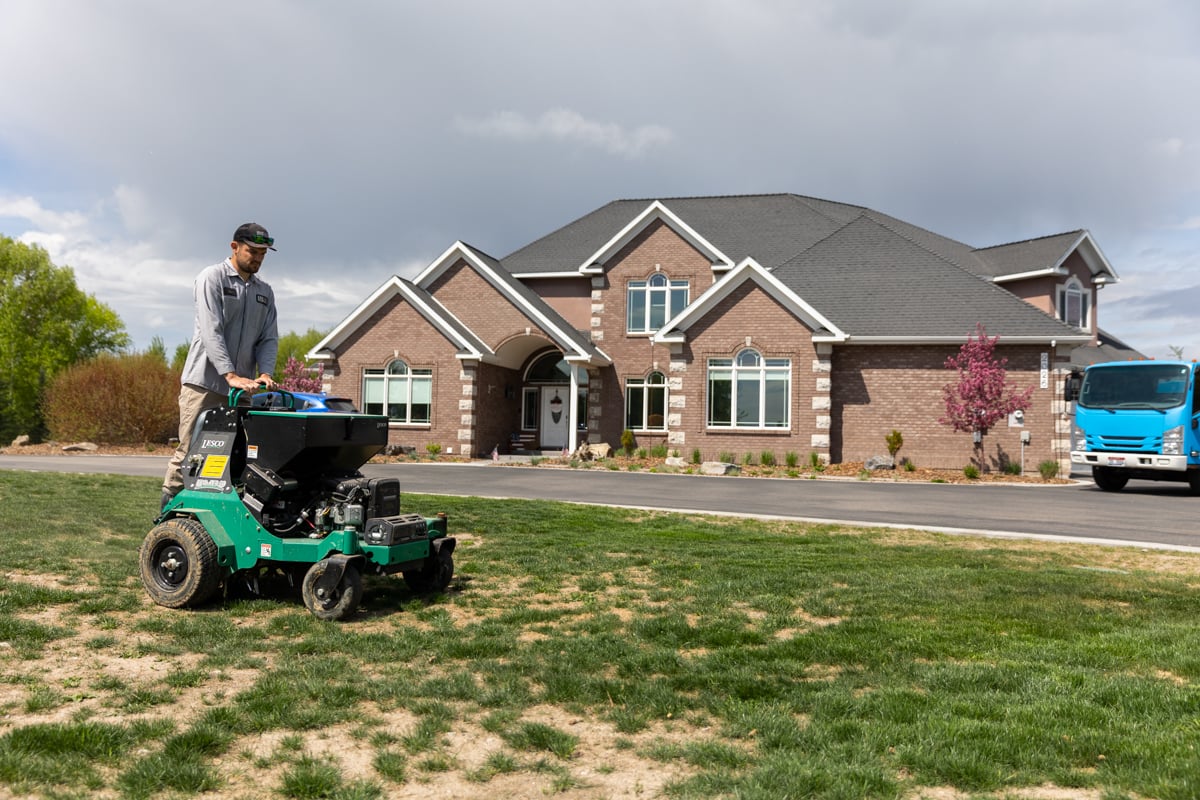 You need lawn aeration, which uses a machine to pull out plugs of soil, creating spaces so that air and water can penetrate, which leads to healthier roots.

What to do with all those holes? Hey, how about grass seed? Those holes created by aeration are perfect new homes for your seed.
4. Buy the Right Seed for Patchy Grass Repair
If you're tackling patchy grass repair and not seeding a whole new lawn, make sure the seed you're planting is the same variety as the rest of your lawn.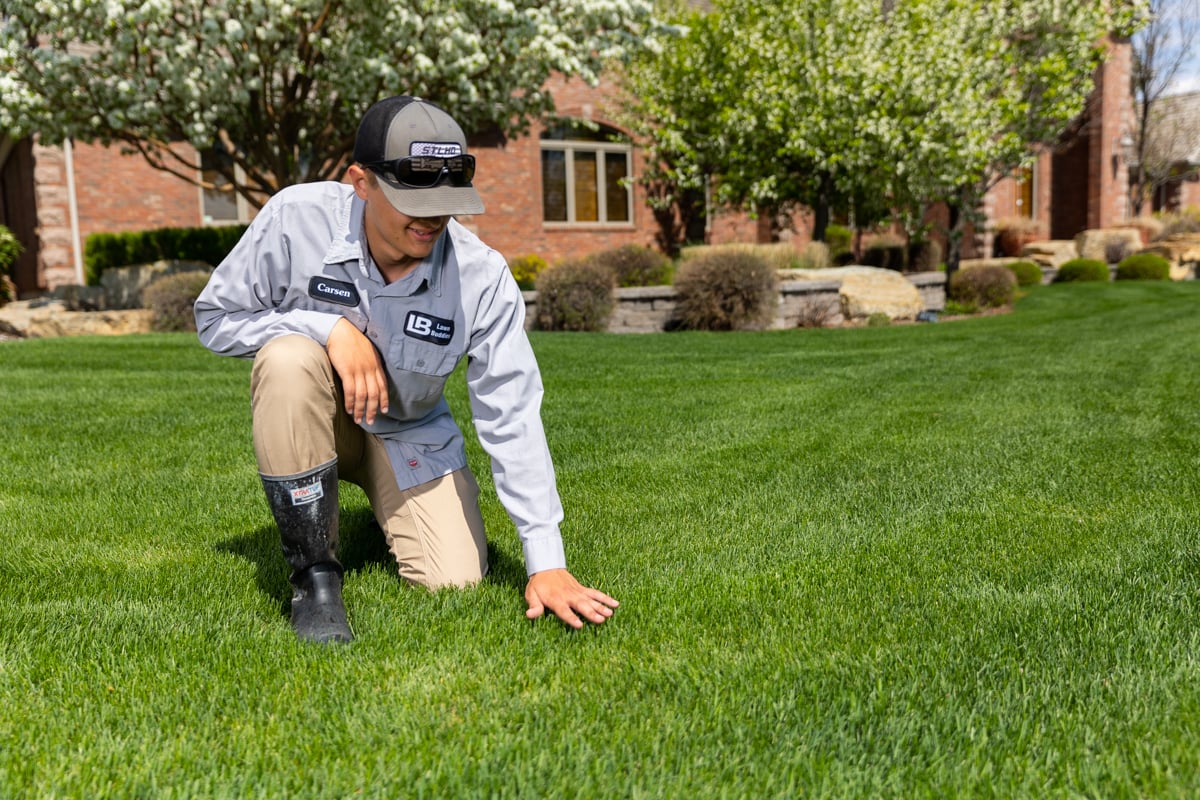 Otherwise you'll still have patchy grass. Instead of patches of bare soil, it'll be a patchwork of different colors and textures. Still not great.

Skip the cheap seed and get high quality grass seed that will blend nicely with your lawn.
5. Patchy Grass Repair: Grass Seeding Basics
If you're a grass seed beginner, here are the basics:
Rake out any dead, matted turf in your patchy grass area. Your grass seed will germinate and root best if It can snuggle up to bare soil.


Loosen the soil a bit to prepare it for the seed.


Scatter grass seed over the loosened soil. Scratch it in a bit and press it down so you know there's good contact with the soil.


Spread a thin layer of topsoil over the seed to protect it from blowing away or washing away in the rain. It will also help hold in moisture, which is really important as it starts to sprout.


Add some fertilizer designed for new grass to get it off to a good start.


Keep it watered. New grass needs frequent light watering in smaller amounts. Shoot for watering your lawn two or three times a day for 15-20 minutes


Limit foot traffic while your seed is out there trying to sprout and while those tender baby shoots are trying to thrive. It's hard work!
Is Your Lawn Ready for a New Best Friend?
Patchy grass repair is a great start to getting that lush thriving lawn you want. But it's just the beginning. Your lawn needs ongoing expert attention, from fertilizer to weed control to protection from insects and diseases.

Choose a professional lawn care service in the Idaho Falls or Boise, ID area that bundles your yard's most-needed treatments into one convenient, no-fuss plan that tells you the cost up front.

Welcome to one premium, six-visit lawn care program that includes everything your Idaho lawn needs to grow healthy and green.

Fertilizer, weed treatments, and grub control, all wrapped up in six visits, each perfectly timed throughout the season, so your grass is green and strong and resists weeds.

We've got your back.

Got a few minutes? That's all you need to get started.
Fill out the form on this page.
Call us at (208) 656-9131.
Or read more about our services.

We'd love to hear from you.