What are Tree Injections, Do They Work, and How Much Do They Cost?
The great thing about giving your tree a shot is there's no sleeve to roll up, they don't wince or cry, and you don't even have to give them a lollipop.

And they almost always get better.

What are tree injections? When does a tree need a shot?

Let's take a look.
How Do Tree Injections Work?
Tree injections are like shots for your trees. They treat diseases and insects like borers, aphids, spider mites, and scale by delivering "medicine" directly into your tree.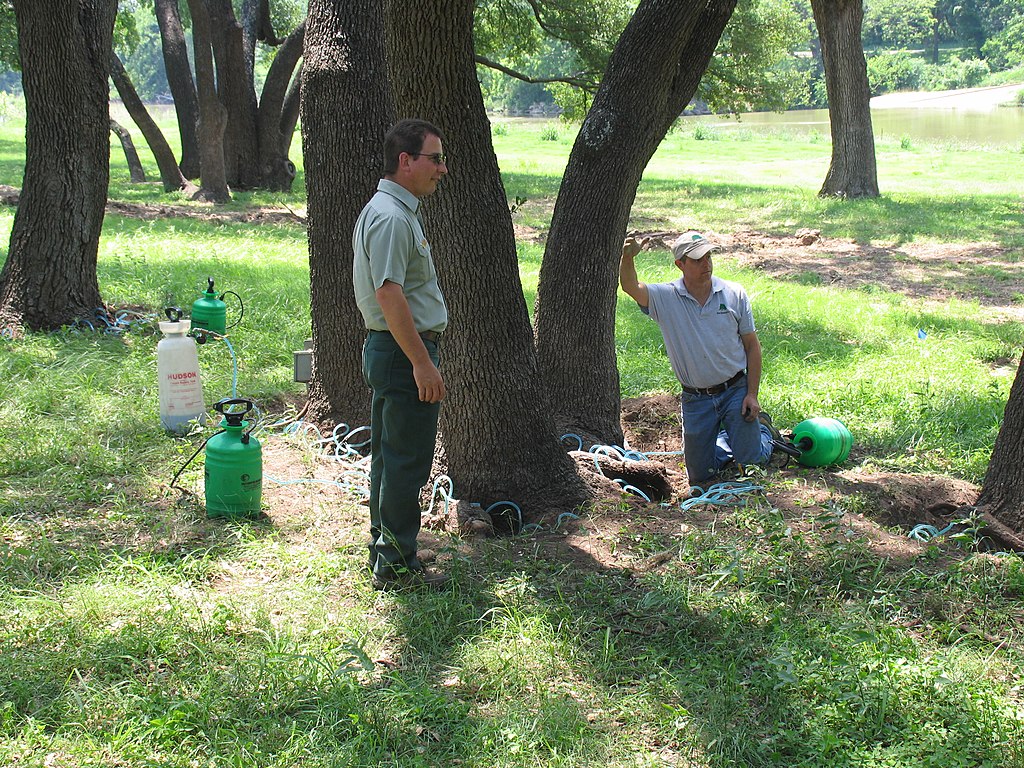 It's injected right into the tree trunk, then quickly taken up by the vascular system and distributed throughout the tree.

This direct treatment works faster and is more effective than spray treatments, says Dillon Beardall, Division Manager of Lawn Buddies.

"You get fast results," he says. "It doesn't take six weeks like other methods."
Why Do Trees Need Tree Injections?
Do you have any maples?

Maples often have "iron chlorosis," a nutrient deficiency, Beardall says. They can't absorb all the nutrients they need from the soil.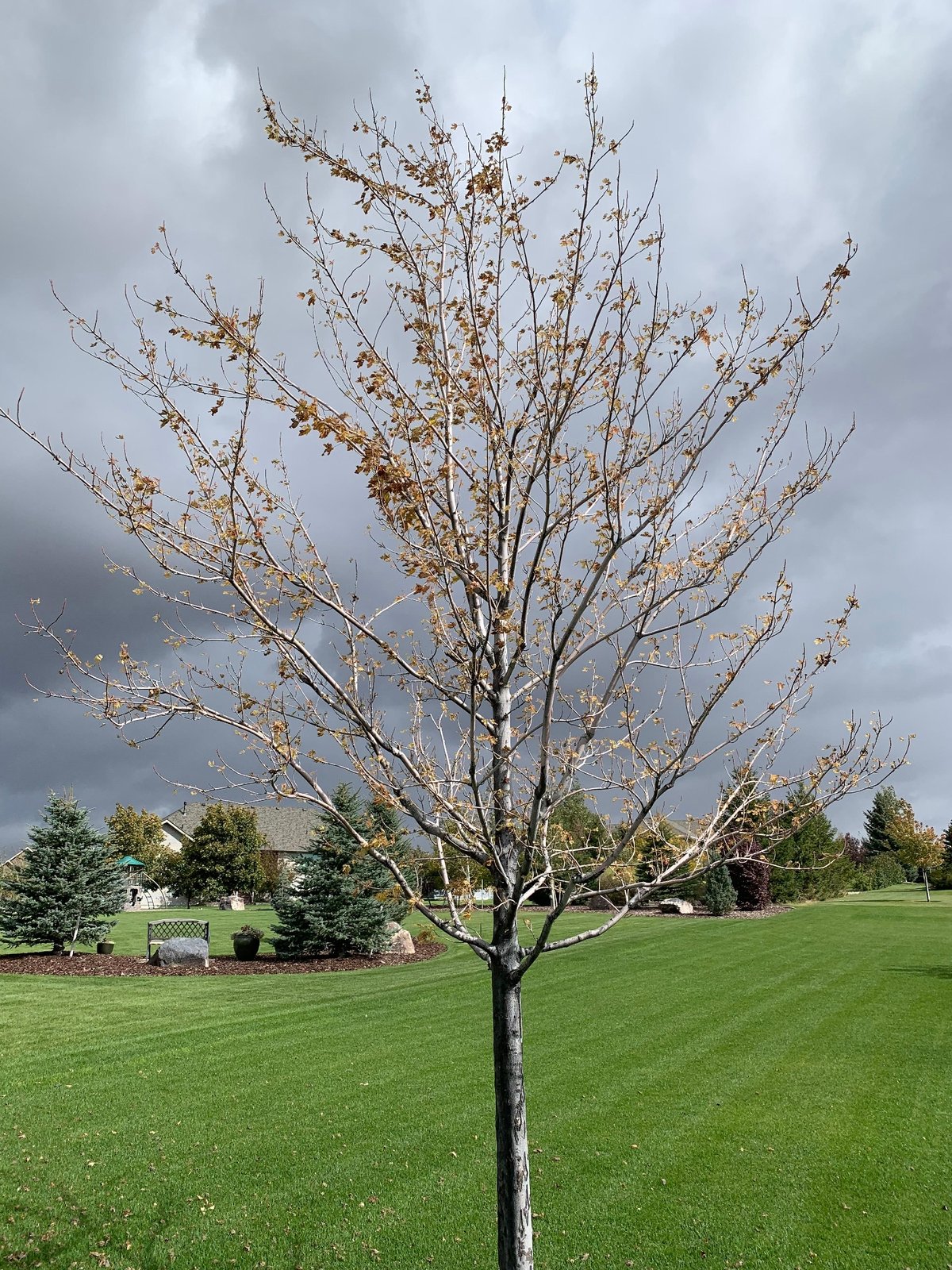 Affected trees have yellowing leaves that never quite get green.

It can affect aspens, too, he says.

Tree injections deliver micro-nutrients directly into the tree and quickly work to replenish it.

Do tree injections work? Check out these before and after photos.

The first photo of this maple was taken in the fall of 2019 before Beardall treated it with a tree injection of micro-nutrients.

The second photo is the following spring.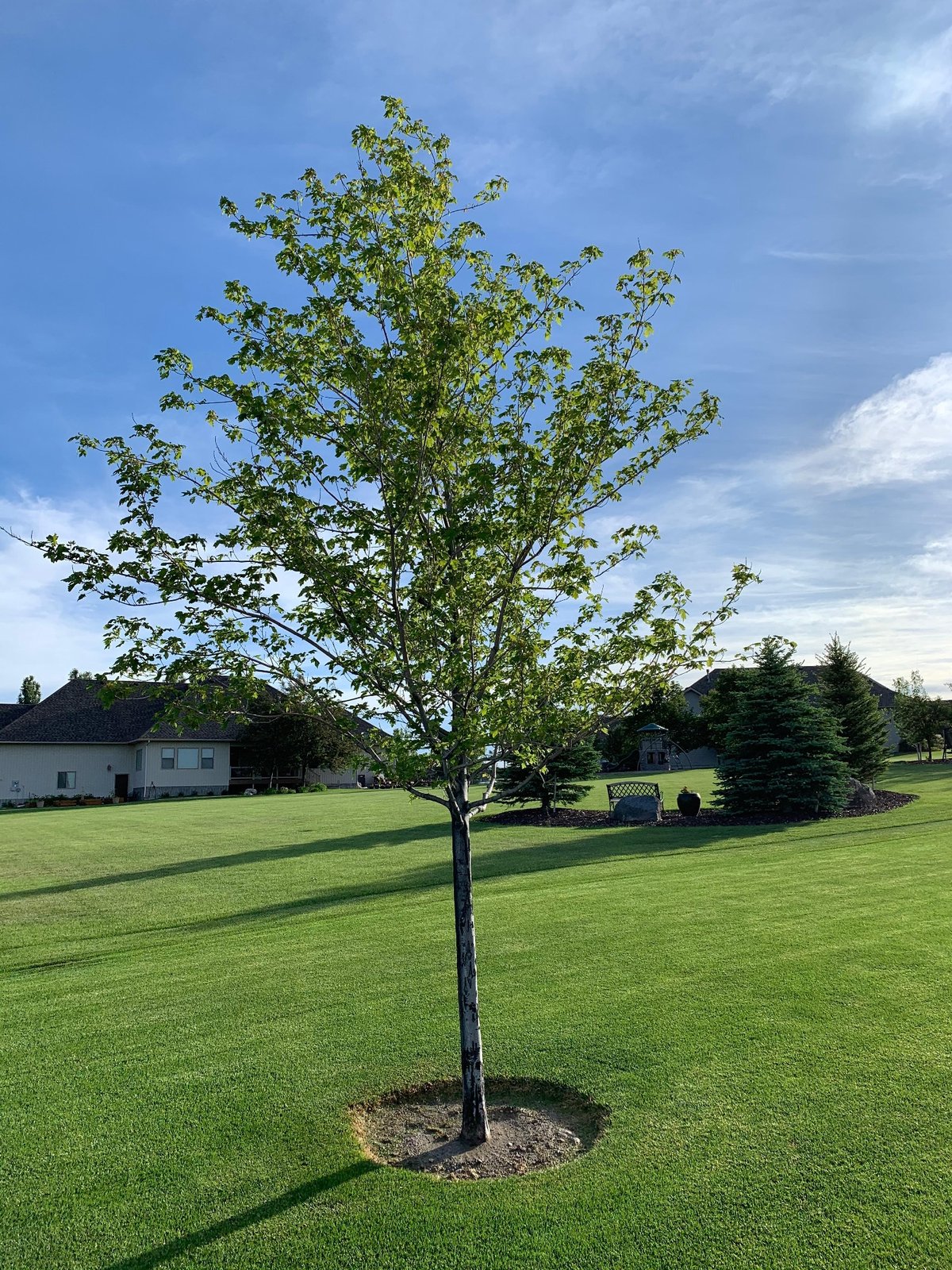 Tree Injections to Banish Bugs
Tree injections work great for treating insect infestations, too, Beardall says, controlling borers, aphids, spider mites, and scale.

Extra Benefits of Tree Injections
Tree injections deliver treatment directly into the tree, so there's no overspray or drifting of chemicals, Beardall says. No pesticides in the air or soil.
While other types of treatment require three to four treatments, tree injections just require one, and lasts for a whole year.
Rainy? Windy? No problem. While spray treatments need calm weather, tree injections can take place on rainy or windy days.
How Much Do Tree Injections Cost?
The cost of this targeted tree health care from Lawn Buddies is $10 per inch in trunk diameter.

We know not everybody has their tree trunk measurements memorized, so figure the average tree cost is $50-$75.

Sure, some trees are bigger. A tree injection for a 20-inch pine would be $200.

Does that seem steep? If your infected tree dies and you need to replace it, $200 would get you a tree just a third of its size, Beardall says.
Are Your Trees Ready for a New Best Friend?
Ready to rescue your trees with restorative tree injections to banish bugs, treat diseases, or add nourishing nutrients?

Expert plant health care like tree injections can be added to our complete lawn care package.

Choose an Idaho Falls or Boise professional lawn care service that bundles your yard's most-needed treatments into one convenient, no-fuss plan.

Fertilizing, weed control, grub control. Done.

We've got your back.

Got a few minutes? That's all you need to get started.

Fill out the form on this page.
Call us at (208) 656-913.
Or read more about our services.

Then kick back and relax in your healthy, thriving yard.
Image Source: Tree Injection