Perimeter Pest Control Products: Store Bought vs. Professional
If creepy insect pests are showing up in your house so often your kids have started naming them, it's time to take action.

So long, Sylvester the spider. Bye, Benny beetle. Adios, Annie ant.

Decision time: do you hit the store shelves for some DIY spray, or brush the ants off your cell phone and call a pro?

What's the difference between professional pest control and store bought products? Let's take a look.
Professional Perimeter Pest Control Products Are Stronger
The main difference between professional pest control and store bought products involves how much the product is diluted. That affects the strength of the product and how well it works.

When you buy a pre-mixed product from a store, it's mixed at a lower ratio than professional-strength products.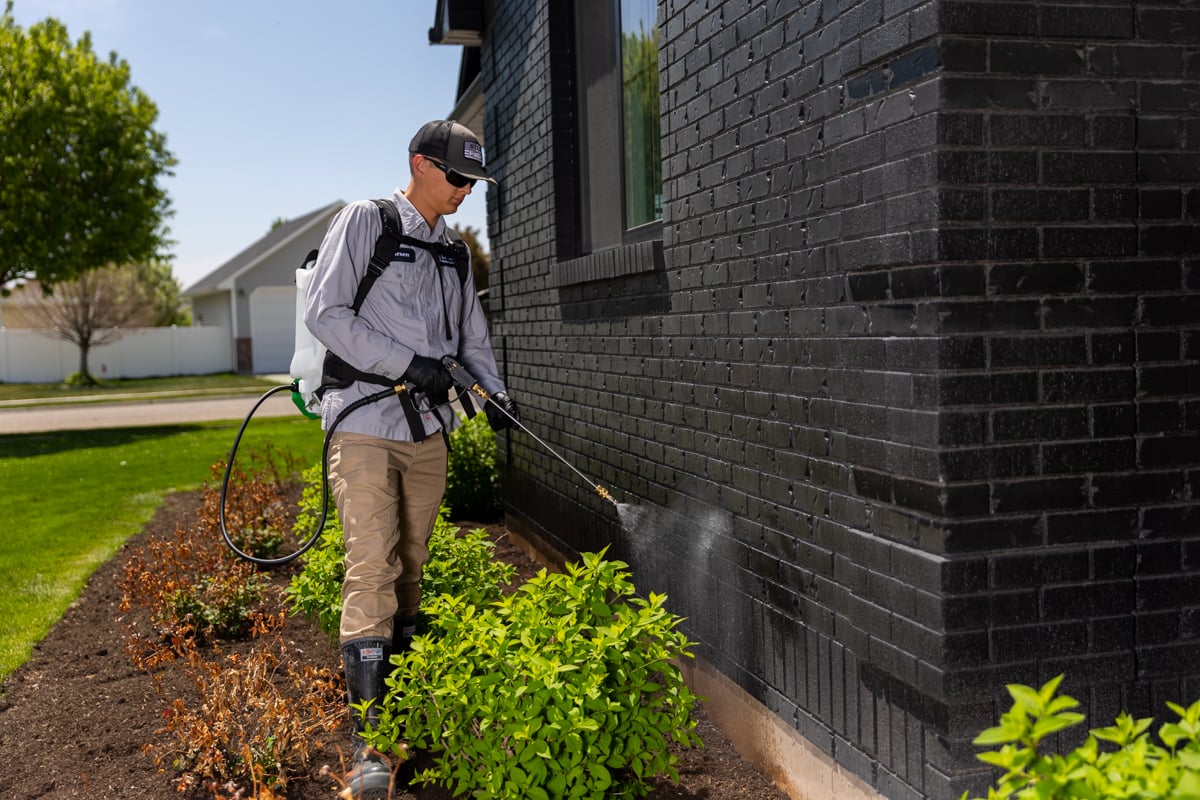 The strength of professional perimeter pest control products allows them to work faster and better than the ones you can buy.

You could buy a higher-strength perimeter pest control product, similar to what professionals use, but you'd need to buy the concentrate with the same active ingredient, invest in a sprayer, buy safe personal protection gear, then properly mix and apply the product, making sure you follow the very long set of directions and cautions.

Not only is that a big hassle, it's actually dangerous if you don't know what you're doing.
Do You Know What You're Doing?
No offense, but you probably don't.

Homeowners are famous for heading out to spray for pests wearing shorts, t-shirts, and sandals. No protective gear. It's kind of scarier than a spider infestation.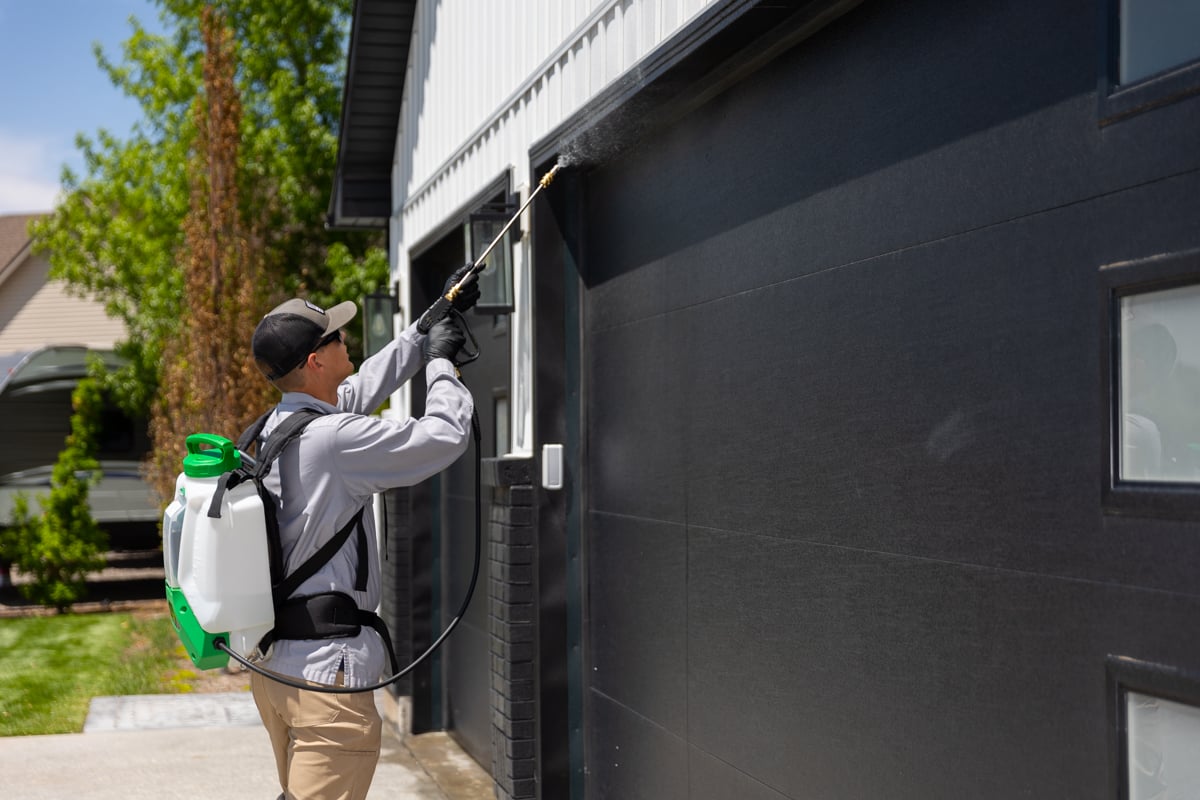 Reading the product label is really important. Do most DIY homeowners take the time? They don't.
This stuff is tricky. It has to be mixed at precise rates and applied precisely.

The pros make it look easy, but it isn't. They're trained for this, dressed safely and appropriately and know how to handle any mishaps.
DIY Perimeter Pest Control Products Are Cheaper, Right?
Probably. But professional perimeter pest control products work. And it's a lot cheaper to pay for professional perimeter pest control now than it is to deal with a pest infestation later.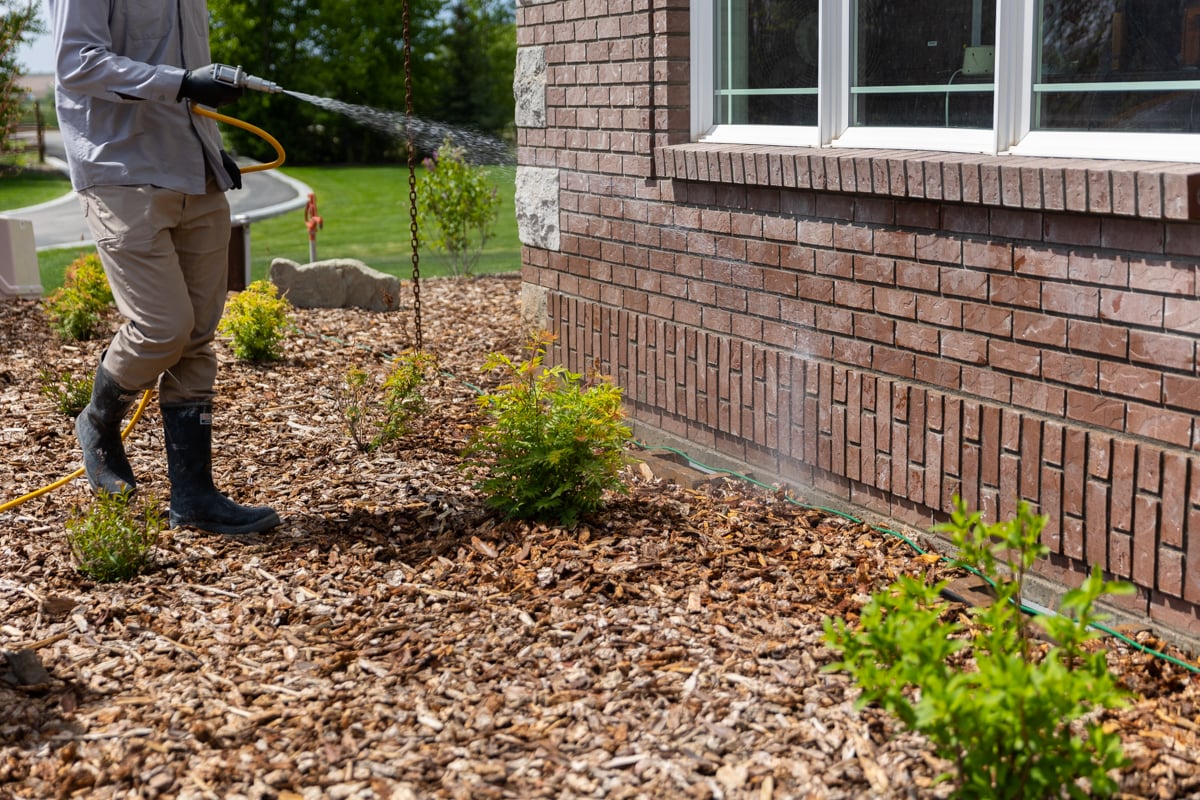 A whole year of perimeter pest control is significantly cheaper than a one-time exterminator treatment. And it's safer for you and your family, too.
How Do Professional Perimeter Pest Control Products Work?
This outdoor barrier protection helps prevent bugs from entering your home and foundation.

Lawn Buddies technicians spray around the perimeter of your home and yard to send pests like spiders and ants packing for about three months.

Since the treatment is performed outside, no chemicals are applied inside your home.
In fact, perimeter pest control treatments don't even require anyone to be home at the time they're applied.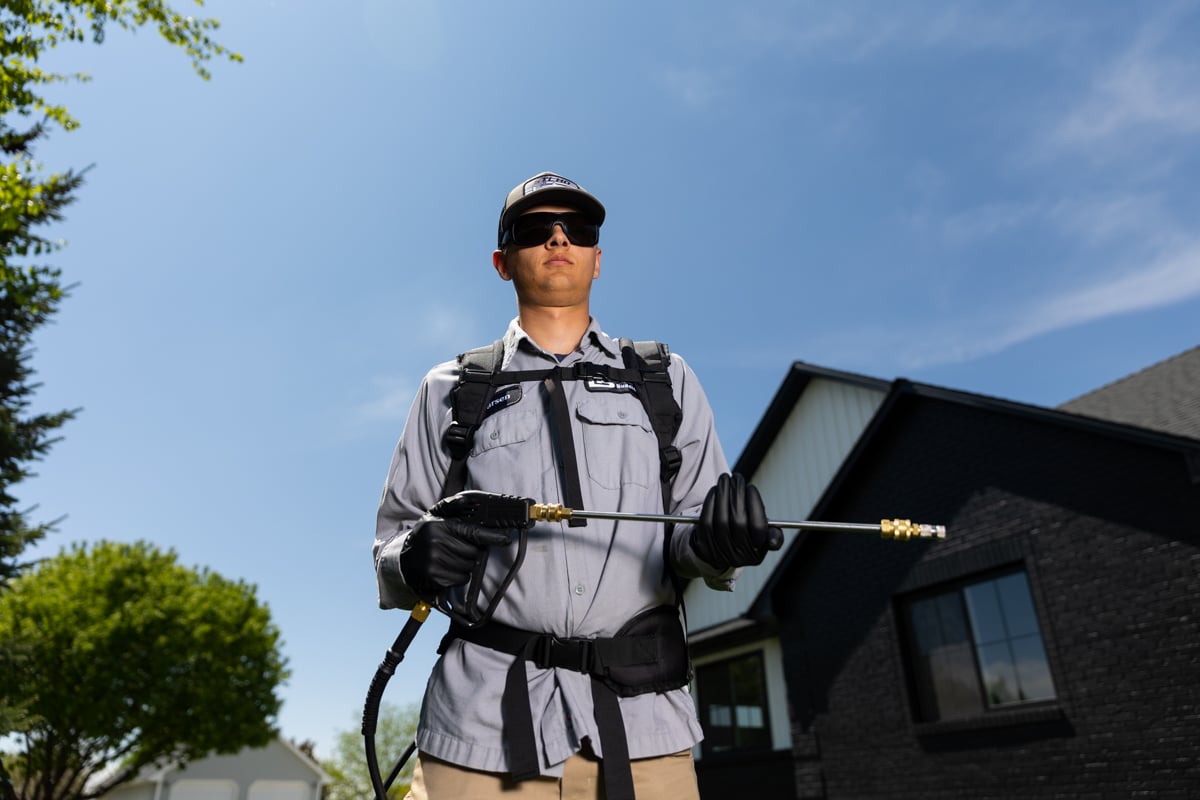 Bonus: we'll perform your insect control while we're already on your property for lawn care treatments. No extra hassle for you.

Perimeter pest control focuses on prevention – carrying out insect control before bugs make it into your home and begin to cause problems.

Lawn Buddies technicians typically treat about three feet up on the house and six feet out, creating a wide protective barrier around the house that includes the landscaping and lawn directly around your home.
Is Your Lawn Ready for a New Best Friend?
The difference between professional pest control and store bought products is that when you call Lawn Buddies, you can relax, knowing creepy invasive pests aren't on their way inside your safe and cozy home. No need to suit up. We've got this.

Time for perimeter pest control in Idaho Falls and Boise, ID?

The first step to taking advantage of Lawn Buddies perimeter pest control is to sign up for our 6-step complete lawn care program.

You'll be glad you did.

Choose an Idaho Falls or Boise professional lawn care service that makes it easy, bundling your yard's most-needed treatments into one convenient, no-fuss plan.

Fertilizing, weed control, grub control. Done. Add pest control. Double done.

We've got your back.

Got a few minutes? That's all you need to get started. You can simply:
Then kick back and relax in your healthy, thriving yard and pest-free home.