What Is Included in Lawn Care Services? It Depends
Some professional lawn care companies offer so many services, it's overwhelming.

So many choices. Packages to ponder and choose. How many visits do you want? Mowing? Pruning? Pool cleaning? Holiday lights?

Shouldn't this be easier? Do you really need all that stuff?

What lawn services do you really need?

Let's take a look.
Professional Lawn Care: The Bottom Line
Sure, you can check all the boxes, write a huge check, and plan to see your lawn care pros at your house so often you feel like you should invite them to dinner.

Some lawn care services will offer to do everything from lawn clean-up to irrigation repair to hydroseeding.

But what do you really need for a green and healthy lawn, bottom line?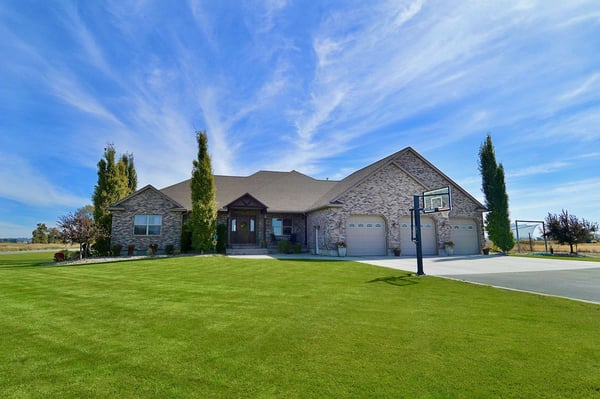 Fertilizer. Weed control. Grub control.

Here's a closer look at the Big Three:
Fertilization
Fertilizer is your lawn's food, and timing is everything.

Lawn Buddies customers get five fertilizer treatments throughout the year.

Lawn fertilization in Idaho Falls kicks off in early spring, adding crucial nutrients to your hungry soil and giving your grass that nice pop of green, fast.

The final fertilizer treatment in fall includes important slow-release granular fertilizer that feeds your hungry lawn for the winter and helps it pop back up, ready to impress, in the spring.

Three treatments in-between keep your lawn green and healthy during all those backyard barbecues and lazy summer weekends on the patio.
Weed Control
Kick pesky weeds to the curb with professional weed control that includes pre-emergent weed treatment in the spring, to battle weeds before they sprout; broadleaf applications to hit dandelions and clover; and spot treatments when pesky intruders sneak in.

Here's a friendly tip: What weeds hate most is a healthy lawn. Dense, thriving grass crowds out weeds, making them struggle to take root.

So, let's keep your grass thick, lush, and healthy with a lawn care program that not only offers lawn weed control, but promotes strong, robust roots.
Grub Control
Grubs are gross. That's enough to give them the boot, but the squishy little villains feast on your lawn's roots, causing whole sections of it to turn brown, wilt, and die.
Then they turn into beetles that lay eggs — that, oh yay, turn into more grubs.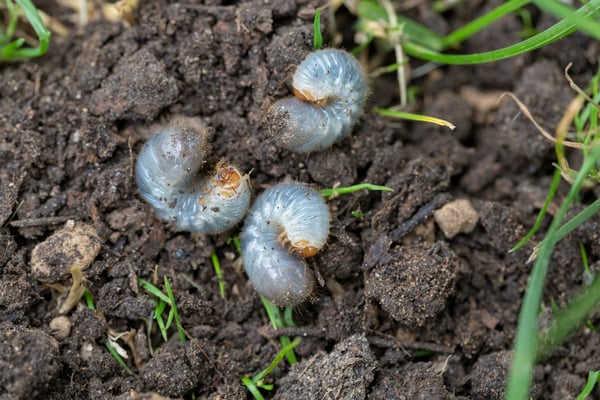 The trick is to kill grubs before they hatch, so we'll apply preventive lawn grub control to nip them in the bud.

Meanwhile, a well-fed and maintained lawn will have fewer grubs than one that's hungry and stressed by drought.

It can be tricky to identify grub and insect damage, because it looks a lot like some turf diseases.

Stop staring at your lawn in confusion and turn it over to your lawn care friends.
Keep Lawn Services Simple
At Lawn Buddies, we make it easy, by keeping it simple.

No puzzling over a weed control visit here or a fertilizer treatment there. No stressing about which complicated combination of lawn care services is best for your lawn.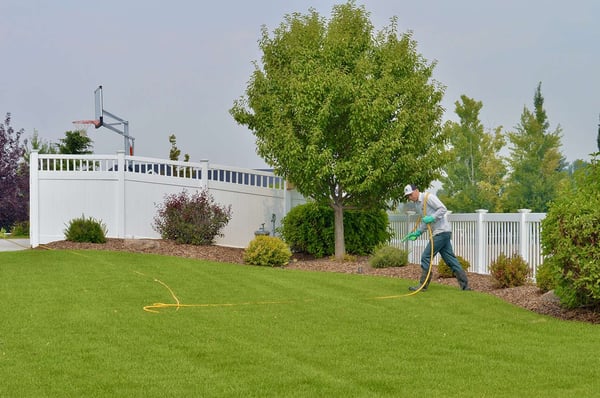 You don't have time to fuss with all that. Give yourself a break.

Welcome to one premium, six-visit lawn care program that includes everything your lawn needs to grow healthy and green.

Fertilizer, weed treatments, and grub control, all wrapped up in six visits, each perfectly timed throughout the season, so your grass is green and strong and resists weeds.
Select a Couple of Helpful Add-ons
Want a bit more? We make that easy, too. Get perimeter pest control or plant health care services done while we're already on your property with no extra hassle.

We'll spray around the perimeter of your home and yard to send spiders and ants packing.

Plant health care services offer targeted help when your plant life is struggling:


Tree and shrub insect treatments
Tree injections to treat diseases and insects
Deep root fertilization
Tree and shrub fertilization
Dormant oil
Plant bed pre-emergent
Is Your Lawn Ready for a New Best Friend?
You could spend hours poring over lawn care programs trying to figure out what you really need.

Or, make it easy on yourself. Choose a professional lawn care service in the Idaho Falls or Boise, ID area that bundles your yard's most-needed treatments into one convenient, no-fuss plan.

We've got your back.

Got a few minutes? That's all you need to get started.
Fill out the form on this page.
Call us at (208) 656-9131.
Then kick back and relax in your healthy, thriving yard.