Diamond Lawns vs. Lawn Buddies: Lawn Care in Meridian, ID
On the fun scale of 1-10, where do you rate looking for a lawn care service?
OK, 42 isn't one of the options, but we get that it's way lower than ordering a pizza and possibly even lower than cleaning the oven.

You order the pizza. We'll get you started. Here's a look at Lawn Buddies vs. Diamond Lawns, two companies that offer lawn care in Meridian, Idaho.
Diamond Lawns
A locally-owned business in Meridian, Diamond Lawns offers landscaping, lawn care, and pest control, encompassing a whole bunch of different services.

They offer a "one-stop shop" for landscaping services. In addition to lawn care and seasonal maintenance, services include hardscaping; tree care; xeriscaping; bee and wasp removal; cockroach extermination; irrigation system design and installation; sod installation; grading and excavating; water feature and pond design; and fencing.

That's a lot of services, all outlined on the company's website.

They offer three lawn care packages — Basic, Premium, and Diamond, but looking at the website descriptions it's a bit confusing trying to figure out how they differ. The company also offers both regular and seasonal lawn maintenance.

The lawn care packages are outlined on the website, but you'll need to call for prices.
Lawn Buddies or Diamond Lawns?
When you compare Diamond Lawns vs. Lawn Buddies you'll see that Diamond Lawns can get rid of bees and wasps, banish your cockroaches, design your irrigation system, or install fencing, in addition to basic lawn care tasks.

There are several different lawn care packages and lawn maintenance plans to choose from.
Lots of options can be good. But it can also be time-consuming to wade through it all, trying to figure out what you really need.
Lawn Buddies
Lawn Buddies keeps lawn care in Meridian ID simple, with a streamlined emphasis on healthy, green lawns and dedication to making things easy for customers.

The lawn care plan choice is easy. Payment is easy. Follow-up videos sent right after your lawn care service explain exactly what just happened out there. Engaging, educational blog articles on the Lawn Buddies website offer lawn care tips to help you understand your lawn's needs.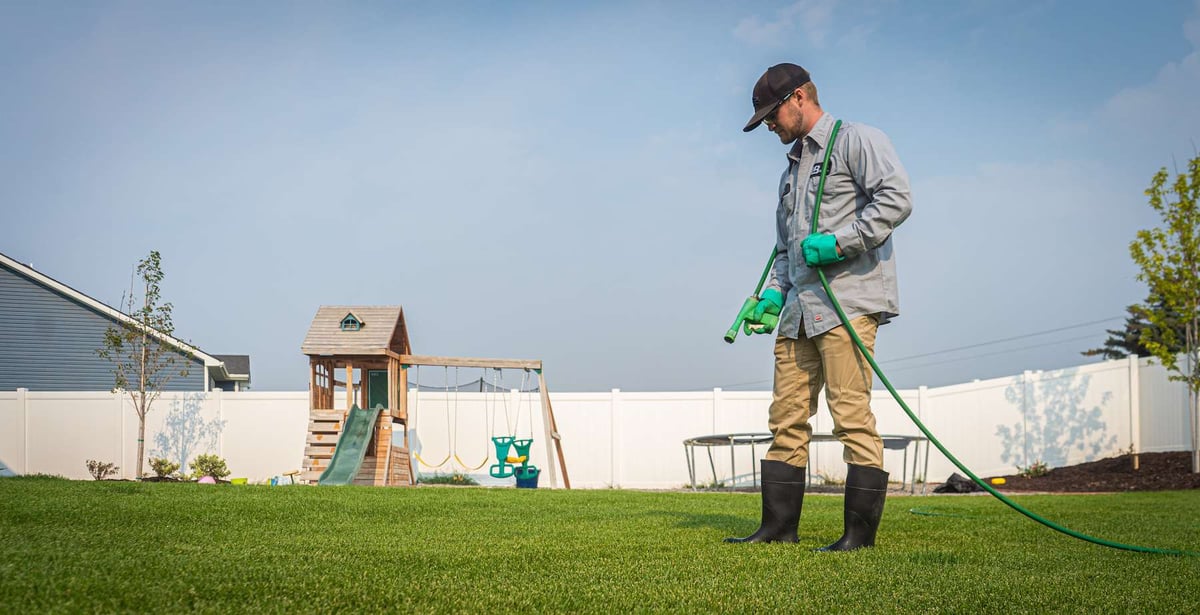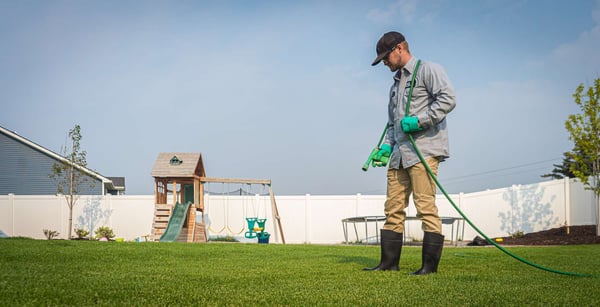 If you want simple, hassle-free lawn care that offers quality core lawn care services for a healthy green lawn, it doesn't get easier than Lawn Buddies.

No puzzling over a weed control visit here or a fertilizer treatment there. No stressing about which complicated combination of lawn care services is best for your lawn.

You don't have time to fuss with all that. Give yourself a break. Hundreds of homeowners in Eastern Idaho have been counting on Lawn Buddies to provide reliable lawn care services since 2001.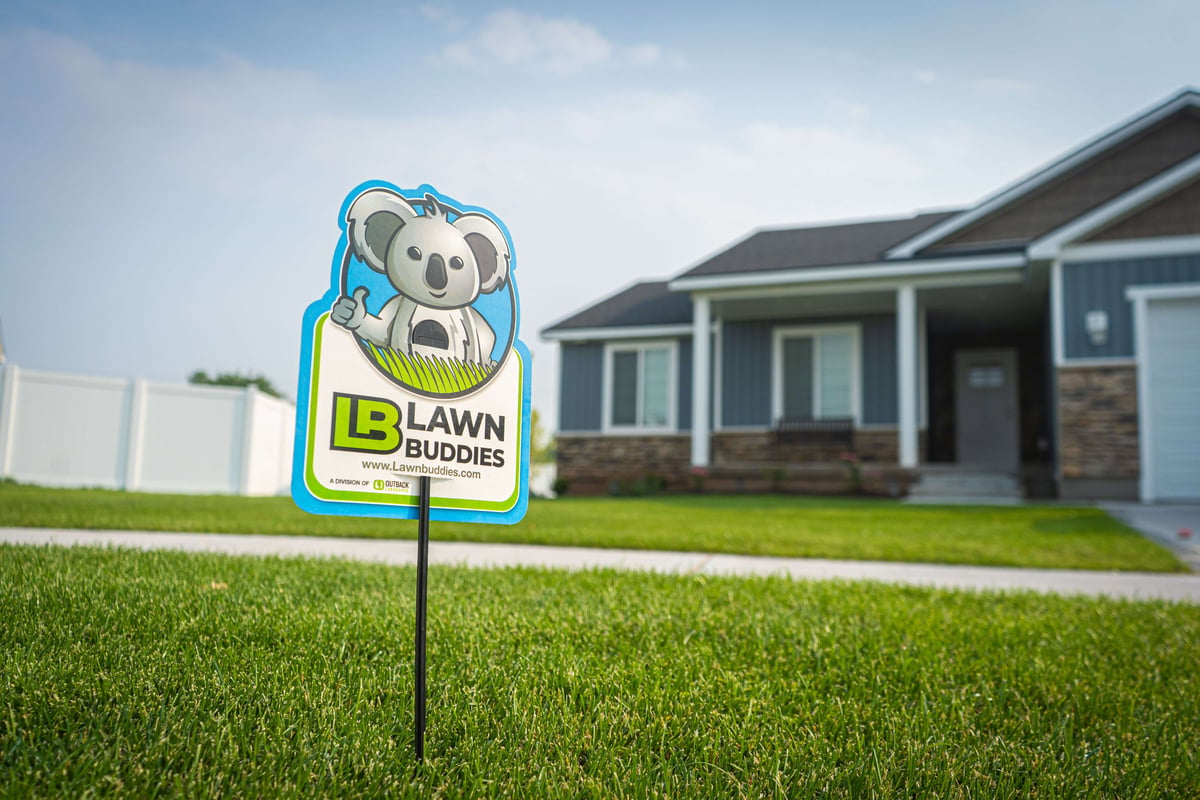 You get one premium, six-visit lawn care program that includes everything your lawn needs to grow healthy and green.

Fertilizer, weed treatments, and grub control, all wrapped up in six visits, each perfectly timed throughout the season, so your grass is green and strong and resists weeds.
It Gets Even Easier
You'll love our after-visit videos. Five minutes after our lawn care technician leaves your yard, you'll get an email with a quick video featuring our technician explaining what they just did and any follow-up tips you need to know.
Payment is easy, too. Your credit card will be on file with us, so billing couldn't be easier. No paper invoices or spending a bunch of time on a website figuring out how to pay. We'll charge your card automatically a week after our visit.
Select a Couple of Helpful Add-ons
Want a bit more? We make that simple, too. Get perimeter pest control or plant health care services like deep root fertilization or plant bed pre-emergent weed control done while we're already on your property for no extra hassle.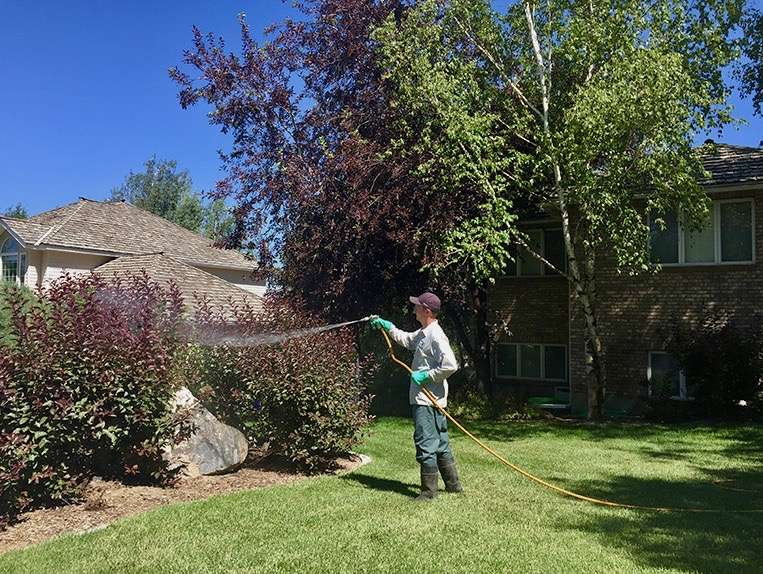 Our plan options and prices are listed right on our website.
Is Your Lawn Ready for a New Best Friend?
As you search for the best lawn care services in Meridian ID, we know you want a healthy green lawn without a bunch of hassle.
You could spend hours poring over lawn care programs trying to figure out what you really need.
Or, make it easy on yourself. Choose a professional lawn care service in Meridian that bundles your yard's most-needed treatments into one convenient, no-fuss plan.
We've got your back.
Got a few minutes? That's all you need to get started.

Then kick back and relax in your healthy, thriving yard.